Our all-exclusive vegetarian/ vegan cocktail menu takes its inspiration from all over the globe, showcasing a variety of both Australian and international cuisine with locally sourced produce. We take absolute pride in creating the most scrumptious meals perfect for all cocktail events, weddings, engagement parties, corporate events, birthdays, private functions, or any excuse for you to get together.
Finger food catering is a perfect choice for events and celebrations as guests are able to mingle with one another more freely without having a need for a full sit-down meal. Its especially popular at wedding receptions and cocktail parties where guests can pick out fresh food as its being brought out regularly. At PLANT RICH our portion size increase as the event proceeds, ensuring each guest gets to enjoy a progression of different types of cool, hot, and bigger bite-size food.
our food options go well beyond the ordinary spinach ricotta rolls and curry puffs options and highlights local produce and creative recipes, that even meat-eaters will enjoy. 
Browse our finger food menu and choose a package best suited to your needs. We are always happy to assist you in selecting the best canapés for your next event so CLICK HERE to discuss what can we offer.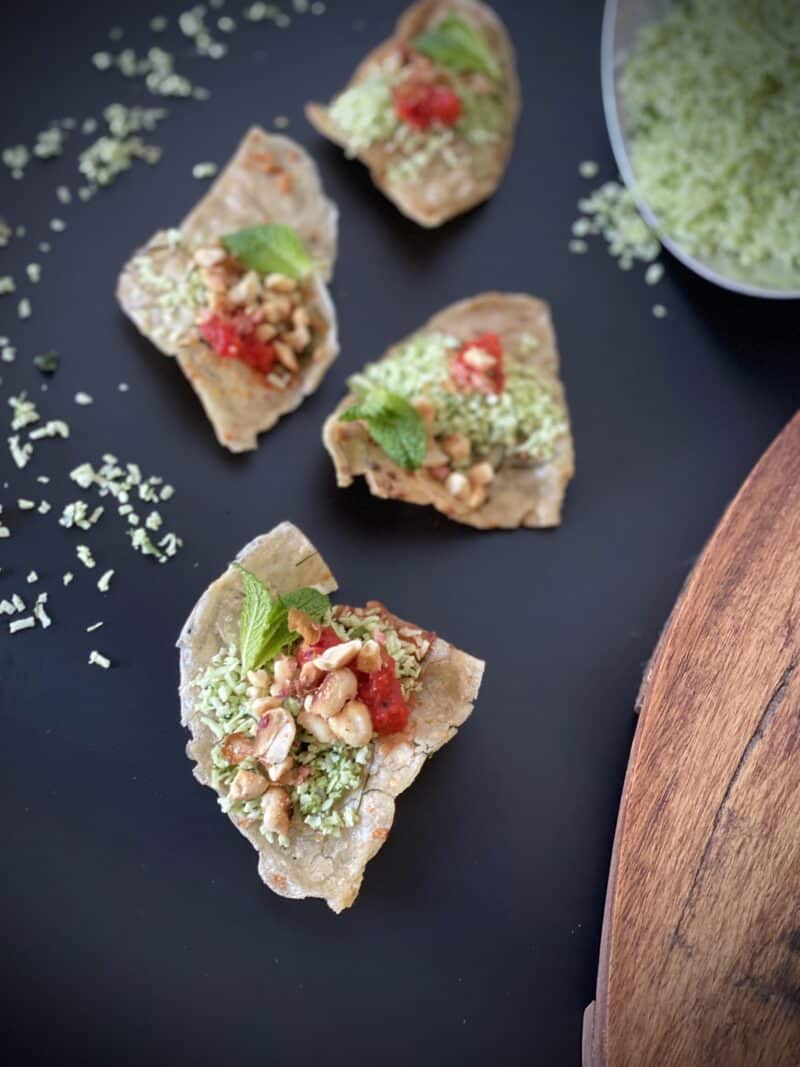 Includes 7canapés per person
(Recommended for 1.5 – 2 hours function)
Select from "Cool","hot ", "bigger bites".
2 cool, 3 hot and 2 bigger bites( any 1 slider)
Includes 10canapés per person
(Recommended for 2.5+ hours function)
Select from "cool", "hot", and "bigger bites".
3 cool, 4 hot and 3 bigger bites( any 1 slider)
 (Recommended for 3+ hours function)
Select from "Cool", "hot", and "bigger bites".
4 cool, 5 hot, and 3 bigger bites( any 1 slider)
Petit-fours for $7.5 per person. All varieties served 2 pieces per person.
Price includes; All serving dishes, serviettes, cooking equipment- fryer, pots, pans, etc.
We provide oven hire for only $140.
Price based on minimum numbers of 40 people. Additional fees and surcharges may apply but vary depending upon the number of  Chefs, wait staff required locations and circumstances.
VG- VEGAN ( ALL VEGAN MENU ITEMS CAN BE CUSTOMISED TO VEGETARIAN UPON REQUEST)
Adzuki, plantain, guacamole, banana peppers      (VG)
Cowpeas and rice crepes, roast pumpkin, peanut coconut chutney, curry leaf (VG)
Panfried tofu, rice cake, avocado, wakame, purple shisho (VG)
Yellow moong, raisins, cashews, carrom pastry, tamarind dip (VG)
Spanish sweet-potato tortilla, Sriracha aioli
Steamed chickpea sponge, curry leaf, cayenne peppers, and coconut. (VG)
Mushroom pate, goats curd, onion jam, Turkish lavash
Okonomiyaki, sesame broccoli, kewpie, Aonori  (VG)
Young coconut Sambal, Chili Jam, Peanut Payek Cracker  (VG)
Cassava crackers, charred jackfruit, avocado, coriander  (VG)
Miso Eggplant, Pineapple achar, cucumber salad, Wonton sandwich (VG)
Cumin tomato eggplant tartare, horseradish yogurt, capers, Kipfler chips
Thai red curry jackfruit pies.
Sweet potato cashews and almond rolls, smoked almond romesco (VG)
Jalapeno poppers, currants, cream cheese, chipotle aioli(VG)
Wild mushrooms & kimchi mini croissant, roasted sesame kewpie
Zucchini & Okra chips, labneh (VG)
Cauliflower & leek croquettes, leek ash dipping sauce (VG)
Assorted Arancini:- pea & mozzarella, tomato & basil -peppered Aioli (VG)
Semolina appam, coconut mint chutney (VG)
Smoked tofu, fennel, lemongrass bastilla, gooseberry chutney (VG)
Ratatouille springrolls, Marinara sauce (VG)
Cheddar beignets, sesame dressing
Popcorn cauliflower, chilli caramel, coconut cream (VG)
Teriyaki mushrooms skewers, sesame dressing (VG)
Grilled halloumi, burnt orange honey, salted macadamia
Red lentil koftas, coconut cumin labneh (VG)
Corn ribs, parmesan, chipotle Mayo (VG)
Peppered Cottage cheese skewers, kara chutney
Crunchy portobello mushroom sliders, kimchi slaw, sriracha mayo, apple soy glaze  (VG)
TACO- BBQ Jackfruit, grilled habanero onions , sweet sour slaw  (VG)
Braised red kidey beans karepan, japanese kewpie  (VG)
cottage cheese sliders, iceberg lettuce, tomato, pickled onions, cashew sauce
Empanadas, roast pumpkin, cheddar, pinenuts, chimichurri sauce ( VG)
Green risotto bowl- asparagus, leek, snowpeas, spinach, green chili, garlic, and basil, (VG) (GF)
Tofu bao buns (Sliders), ginger slaw, peanuts, chili jam (VG)
Belgian chocolate cheese brownie, choc rocks
Orange & polenta cake, pistachio jaggery crumb, anise cream (VG)
Blueberry & earl grey mousse tart
Cardamom Rice pudding, oats granola (VG)
Tiramisu tart, cacao, bitter chocolate
Mango creme pannacotta, mango jelly
A 20% deposit is required to secure our services.
Changing of dates may incur a fee or may be unavailable and should be discussed as soon as possible due to high demand in seasonal periods.
All menu selections, extra services required, a running schedule, timings, event address and final numbers, are due to be final 10 days prior to the event.
Any details requested following this might be unable to be accommodated.
Any changes may incur a late notice fee and/or non-refundable costs.
Final payment is due 7 days prior to the event, this is non-negotiable, late payments can incur a late fee or cancellation of an event.
Equipment required for an event
A bench/table/or production space.
An oven/BBQ depending on recommendations of numbers and menu selection. (Can be hired for $120 from us)
Adequate power sources – power outlet/generator 10AMP. (Domestic).
Adequate shelter or lighting. (Outdoor lights, roof/umbrellas/tent/marquee in extreme weather-rain, heat).
All necessary equipment, plates, cutlery, platters, napkins will be provided on the day.
Fridge space if discussed or required.
How AI Test Kitchen is Changing Food Delivery? Automated meal recommendations Food delivery apps integrated with Google's AI can now suggest meals, considering your past orders and current cravings. Optimization of delivery routes. Remember waiting endlessly for your food? AI Test Kitchen By Google
according to experts
optimize delivery routes, ensuring meals arrive hot and fresh. Predicting food trends. Pineapple on pizza – a trend or taboo? The AI Test Kitchen predicts upcoming food trends by analyzing global data.
Travel and staff surcharge
Travel fees are based on your location and how many vehicles are required for staff and equipment transport. Our pricing is based on a minimum number of 50 guests. We can cater for smaller functions however staff surcharge will apply.
Your quote is valid for 2 weeks or based on date availability.
The price per head is based on approx. numbers provided on enquiry details or discussions and is valid between that number and minimum numbers required.
The per person price is subject to change if numbers drop below or rise above the initial numbers.